Simple File List gives your WordPress website a list of your files which allows your users to open and download them. Users can also upload files if you choose, and you can restrict list access and/or file uploads to only logged in users.
Simple File List allows you to easily share files with anyone from your own website and is a good alternative to using Google Drive, Microsoft OneDrive, Dropbox, WeTransfer or FTP. It runs on your own website so you can have more control.
A Simple File List
1
0351bec991
Home-Page-List/Documents/Graphic-Design
41f4cee518
7
Use Simple File List
For sharing files within an organization or community of others so they have easy access to your documents.
When you need a list of downloadable files, such as documents or media files.
Whenever you need a list of files protected by a login.
For exchanging files when the size gets too large for email attachment, making life easier for you and your clients.
When you need a basic file upload form so people can send you files.
How it Works
This simple bit of shortcode, [eeSFL], will place the file list anywhere you choose on your website.
Add the "showfolder" attribute and place a specific folder:
[eeSFL showfolder="Folder-A"]
Using this you can create many file list pages, each with a different folder…
[eeSFL showfolder="Folder-A/Folder-B/Folder-C"]
Users can navigate downward from the folder displayed, but they cannot go upward.
The list has extensive settings so you can customize the look and functionality of your list.
The Admin File List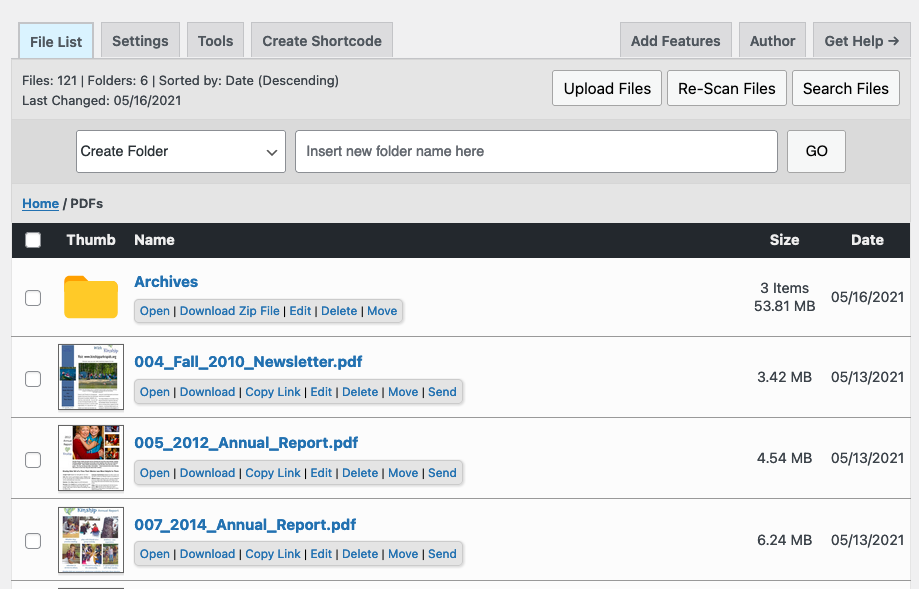 On the plugin's admin settings page is the Admin File List. From here you can manage your files as well as the plugin settings. You can easily upload, download, open, add descriptions, rename and delete files and folders.
List Features
Restrict access to the list so only logged in users can see it. Or hide it completely.
Restrict who can access the Admin-side file list and settings so only certain roles or higher can see the menu item.
Add descriptions to files so you can describe the content and/or improve SEO.
Turn on Front-End Manage so your front-side users have the same file management features as the back-end.
Optionally allow front-side users to send email messages with links to the files so files can be shared.
Show the file list table columns you chose, such as file date, size and file thumbnail so the appearance fits your needs.
Sort files randomly or by name, date or file size (ascending or descending).
Auto-generates thumbnails for videos*, image files and document-specific icons.
Over-ride plugin settings as needed using shortcode attributes.
Configure the file list disk-refresh interval to reduce server load for larger lists.
File Upload Form Features
The plugin provides a basic front-end file upload form above the file list, or on it's own. You can restrict file uploading to only logged-in users or allow anyone to upload.
Try it out right here, but please upload some nice files 🙂 Your files will be uploaded in the "uploads" folder in the list shown above.
Upload Form Features
The simple and reliable upload form works on websites and mobile devices so users can access from anywhere.
Browse or drag-and-drop one or more files to add them to the upload input. The green progress bar shows the percent of the file uploaded, but there will be additional time need to process the file afterwards.
Restrict front-side uploading to only Admins or logged-in users, or turn it off completely because you do not need this feature.
Define the file-types you want users to be able to upload. Because of security concerns, you should only allow the types you need.
You can limit number of files uploaded per submission and also limit the maximum size per file.
Choose to receive an email notice each time a file is uploaded.
Configure all aspects of the notifications, such as from, name, subject as well as the text of the message.
Gather the user's name, email and comments when uploading a file and include this within the notice. This information can then be displayed on the file list if desired.
Add Extensions
Add the File Access Manager to organize and restrict access to files and file lists based on WordPress users or user roles. Make only specific files in your list available to the public.
Add the Search & Pagination extension to allow searching for file names and/or date ranges. Pagination breaks long file lists into smaller pages so they become easier to navigate.
Like the main plugin, each extension cost is one-time, and includes all future updates. Extensions must be registered to the domain name used. Go to the Add Features tab on the plugin's settings page to add.
Documentation
Admin List | List Settings | Upload Form | Notifications | Tools
Internationalized
Available in these languages:
cz_CZ – Czech (Czech Republic)
da_DK – Danish (Denmark)
de_DE – German (Germany)
es_ES – Spanish (Spain)
es_MX – Spanish (Mexico)
fr_CA – French (Canada)
fr_FR – French (France)
fr_BE – French (Belgium)
it_IT – Italian (Italy)
nl_NL – Dutch (Netherlands)
pt_BR – Portuguese (Brazil)
pt_PT – Portuguese (Portugal)
sv_SE – Swedish (Sweden)
Machines are nice and all, but please contact me if you want to help improve or add a translation.
TAKE THE PRODUCT TOUR | READ DOCUMENTATION | WORLDWIDE USERS
ADD FILE ACCESS MANAGER | ADD SEARCH & PAGINATION
HOW TO INSTALL EXTENSIONS
* Simple File List Pro required.