The Search & Pagination extension adds searching and pagination functionality to Simple File List Pro. It is designed to make finding what you need and navigating through large file lists much easier.
Search
A search box will appear above your file list. The file search can be based on name and/or a date range, if the date column is displayed as shown here.
Name searches also search the item's nice name, description and submitter info.
The use of wildcards is also supported. For example: .jp*g would find both jpg and jpeg files.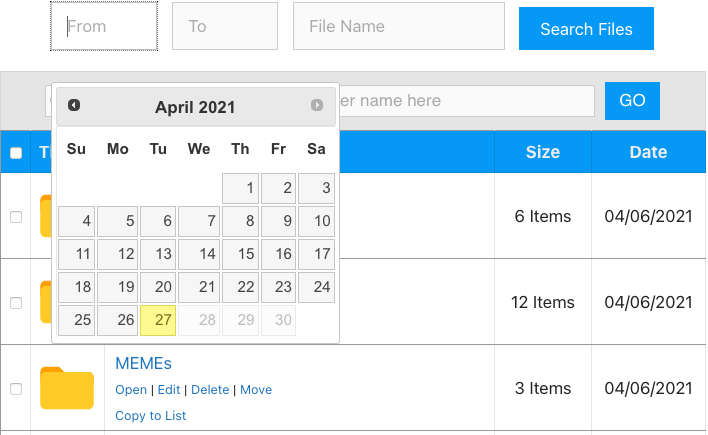 ---
Search Form Only
If you want to display the search form without the list, you can place this shortcode on any page, post or widget. Example:
[[eeSFLS permalink='https://website.com/file-list-page/']]
When the user clicks the Search button, the page defined by the permalink attribute is searched as it is loaded.
---
Pagination
Pagination controls will appear below the list, plus a total count of the pages. You define the size of each sub-page in the main plugin's settings.

---
Settings
The extension adds five new options. To access these, go to the List Settings > Extension Settings tab.
Enable Search
Show or hide the search panel.
Search By
Show Search Inputs for Text, Date or Both.
Search by Date Type
Search by file date modified or date added to the list.
Enable Pagination
Organize the file list into smaller pages.
Choose Page Size
Choose how many files to show per page.
NOTE – Use shortcode attributes to customize these settings for secondary list locations.
---