The Admin File List, on the back-end of your site, serves as the main location to manage your files and lists. Here you can add, edit and delete anything in the list. Use the Function Bar at the top to create new folders and bulk edit checked items in the list.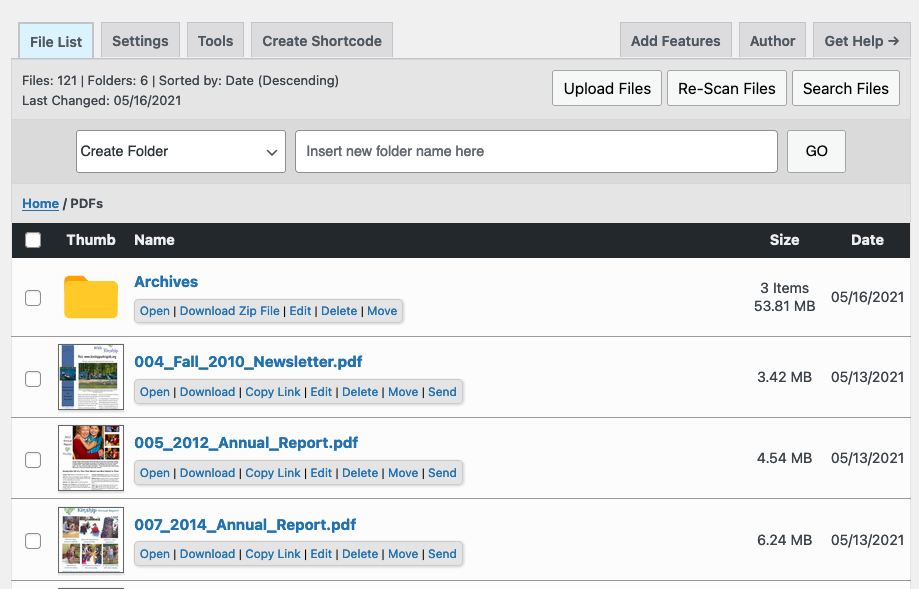 Upload Files
Click this button to open the upload form. Click it again to close it.
Re-Scan
This button will only appear when the file list cache feature is ON. Normally, Simple File List will re-scan each hour to look for changes to the disk and environment. Click the re-scan button to force the scan immediately.
Search Files
Add the Search and Pagination extension to allow easy searching, by date and/or text of your files. Break up long lists into sub-pages of the size you define.
The File List
The Admin File List always begins at the root of the file list directory, as defined on the File List Settings tab. On the front-end, you display this list using the shortcode: [eeSFL]. You can also display folders in the list this way using attributes.
File Action Links
The links below the file name are the file's Action Links. These allow you to perform different operations on the item:
Open – Open the file in a new browser tab.
The open link will only appear for file types that browsers can open.
Download – Download the file directly to your computer or device.
Folders are downloaded as a ZIP file, which is created and a download link proved for that.*
Copy Link – Copy the file's URL to your clipboard.
Note that individual file links are reachable regardless of the list visibility settings.
Edit – Open a Edit Details dialog.
Here you can rename, add/edit a description or modify the date* of the file.
Delete – A conformation box will appear. If you choose OK, the file will be deleted.
Deleted Files and Folders are gone FOREVER.
Move* – Open a selection of folders where you may move this file or folder to.
Whole folders and their sub-folders can be moved as easily as files.
Send* – Open a dialog where you dictate an email message containing links to chosen files. You can send more than one file link per message.