File Upload Restrictions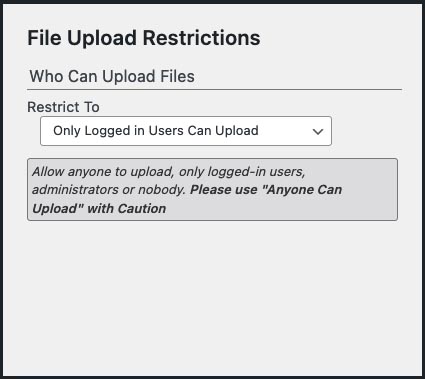 Allow File Upload
Display the upload form to everyone, only to logged in users, only to administrators or to nobody.
To restrict file uploads by WordPress user or role, add the File Access Manager to Simple File List Pro
---
Allow Overwriting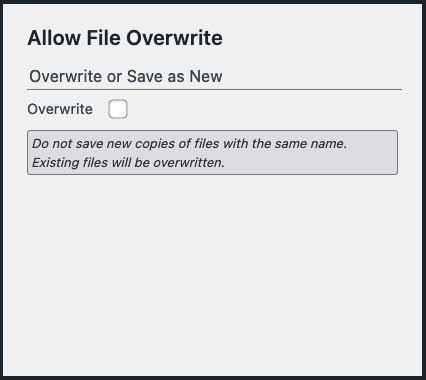 Overwrite
Chose to allow new files to replace existing files or rename new files by adding a number.
---
Upload Job Limits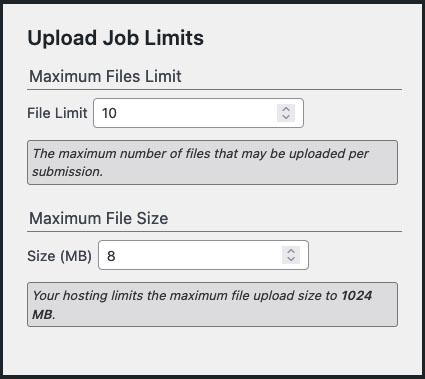 Maximum Files Limit
You can limit the number of files that can be uploaded per submission.
Maximum File Size
You can limit the size of the file to be uploaded. This setting is limited to your hosting environment.
You can usually change the maximum upload file size. Read more here.
---
File Types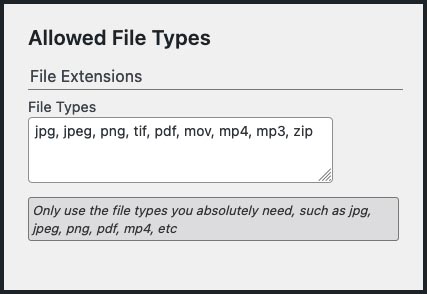 Restrict the types of files that can be uploaded. Only accept the file types you absolutely need. Here is a list of some common types:

gif, jpg, jpeg, png, tif, pdf, wav, wmv, wma, avi, mov, mp4, m4v, mp3

Certain possibly dangerous file types are always blocked from uploads.
---
Upload Submitter Information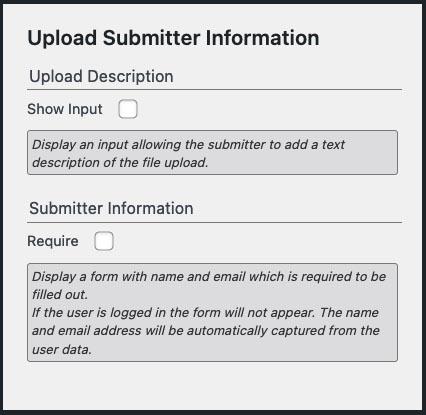 Upload Description
Show an input where the user can optionally add a description to the upload job.

Submitter Information
Show inputs for the file owner's name and email.
For logged-in users, their name and email address are automatically gotten from their account info.
Submissions are included within the upload notification email and added to the file details, which can be shown along with the file.
---
Upload Display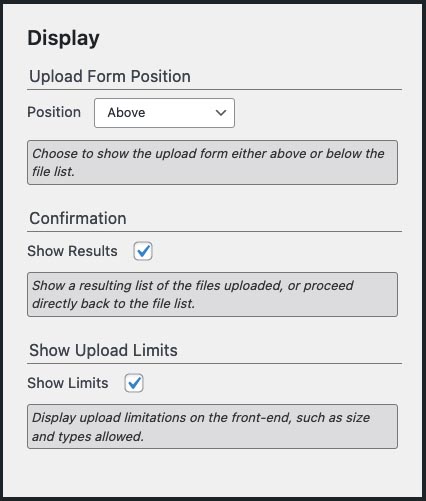 Upload Form Position
Choose to show the upload form either above or below the file list.
Upload Confirmation
Show a resulting list of the files uploaded, or proceed directly back to the file list.
Show Upload Limits
Show the user information about what can be uploaded: file size, number and file types.