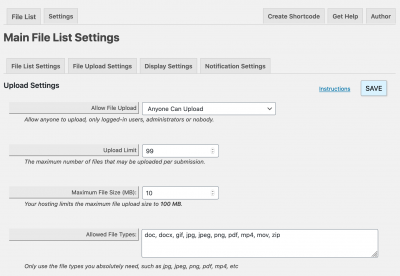 File Upload Display
Display the uploader to everyone, just to logged in users, just to administrators or to nobody.
Upload Directory (PRO)
This is relative to your WordPress home folder. The default location is wp-content/uploads/simple-file-list/ , but you can change this. Changing the path will create a new directory if it does not yet exist.
Upload Limit
You can limit the number of files that can be uploaded per submission.
Maximum File Size
You can limit the size of the file to be uploaded. Your hosting limits the maximum file upload size to 256 MB.
File Types
Restrict the types of files that can be uploaded. Only accept the file types you absolutely need. Here is a list of some common types:

gif, jpg, jpeg, png, tif, pdf, wav, wmv, wma, avi, mov, mp4, m4v, mp3

Certain possibly dangerous file types are always blocked from uploads.
Allow Overwriting
Chose to allow new files to replace existing files or rename new files by adding a number.