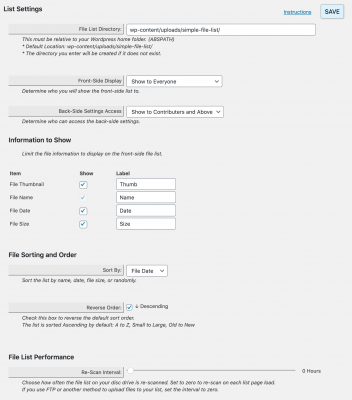 File List Directory (Pro Version)
This must be relative to your WordPress home folder. (ABSPATH)
Default Location: wp-content/uploads/simple-file-list/
The directory you enter will be created if it does not exist.
Front-Side Display
Display the file list to everyone, just to logged in users, just to administrators or to nobody. You can use the uploader without showing the file list.
Back-Side Settings Access
Determine who can access the back-side settings. Access can be based on WordPress user roles.
Columns to Show: Thumbnail, Name, Date, Size, and Owner
Sort the list by File Name, Date, or Size Limit the columns of file details to display on the front-side file list.
Sort By: Name, Date, File Size, or Randomly
You can sort the file list by the file name, its date, its size or randomly.
The file date format uses the format selected on your WordPress General Settings page.
Reverse Order: Normal or Descending
Check this box to reverse the default sort order. The list is sorted Ascending by default: A to Z, Small to Large, Old to New
File List Performance
Choose how often the file list on your disc drive is re-scanned. Set to zero to re-scan on each list page load.

If you use FTP or another method to upload files to your list, set the interval to zero. If your list rarely changes or you only add files from the Admin List, set the interval high.