Simple File List is a free plugin that gives your WordPress website a list of your files which allows your users to open and download them. Users can also upload files if you choose.
A Basic Example:
1
Home /

Example
ced0c41f41
8
How it Works
A simple bit of shortcode [eeSFL] will place a file upload form and file list anywhere you choose on your website.
You can over-ride the default appearance within the plugin Settings. The list and the upload form can be turned on or off as needed. You can show only the list, only the upload form, or both, plus configure many other settings as needed.
Furthermore, you can restrict uploading and/or viewing of the file list to only Admins or logged-in Users. You can also password protect file list pages.
Simple File List allows you to share files with anyone and can be a good alternative to using Google Drive, Microsoft OneDrive, Dropbox, WeTransfer or (gulp) archaic FTP. And it runs on your website for free.
Use Simple File List
When sharing files within an organization or community of others.
When you need a list of downloadable files, such as documents or media files.
When you need a list of files protected by a login.
When exchanging files if the size gets too large for email attachment.
When you need a basic file upload form so people can send you files.
The File Manager
The plugin's settings page will always show your main file list along with a file upload form. This is your file manager view. You can easily open, download, upload, rename and delete files as needed.
Add the Folder Support Extension to organize files within folders and sub-folders. Then use specific shortcodes for each folder to create pages, posts or widgets showing selected folders.
Add the Search & Pagination Extension to allow searching for file name and date range. Pagination breaks long file lists into smaller pages.
Extensions have a low one-time, per domain price.
The List Features
Restrict access to the list to only Admins or logged in users, or don't show the list at all.
Easily delete unwanted files.
Optionally allow front-side users to delete files.
Rename files on the Admin-side.
Move Files between folders**
Optionally show file date, size and a file thumbnail.
Sort files randomly or by name, date or file size (ascending or descending).
Auto-generates thumbnails for videos*, image files and document-specific icons.
Show or hide any column in the settings or via shortcode.
The File Uploader Features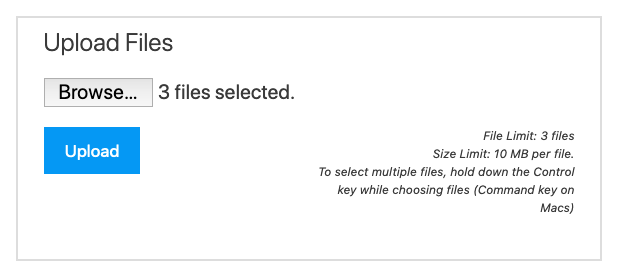 Simple reliable multi-file upload form works on websites and mobile devices.
Restrict uploading to only Admins or logged-in users, or turn it off completely.
Define the file-types you want users to be able to upload.
Limit number of files uploaded per submission.
Limit the maximum size per file.
Get an email notice each time a file is uploaded.
Optionally gather the user's name, email and comments when uploading a file and include this within the notice.
How to Add the File List into a Page, Post or Widget
Place this shortcode on any page, post or widget:
[eeSFL]
This basic shortcode will, by default, show the file upload form and file list defined on the plugin's settings pages. (The ee is for me: Element Engage)
The Shortcode Builder
Go to the Instructions Tab and use the Shortcode Builder to easily configure an extensive set of shortcode attributes to over-ride the default function and appearance settings. You can easily tailor a file list for a specific page, post or widget.
Add Folder Support and use the Shortcode Builder to place folders where needed on your website.
Internationalized
Simple File List comes with 11 language localizations.
de_DE – German (Germany)
es_ES – Spanish (Spain)
es_MX – Spanish (Mexico)
fr_CA – French (Canada)
fr_FR – French (France)
it_IT – Italian (Italy)
ja_JP – Japanese (Japan)
nl_NL – Dutch (Netherlands)
pt_BR – Portuguese (Brazil)
pt_PT – Portuguese (Portugal)
sv_SE – Swedish (Sweden)
Machines are nice and all, but please contact me if you want to help improve or add a translation.
TRY DEMO | READ DOCUMENTATION | DOWNLOAD
WORLDWIDE USERS
ADD FOLDER SUPPORT | ADD SEARCH & PAGINATION
HOW TO INSTALL EXTENSIONS
* FFmpeg required for video thumbnail creation.
** Folder extension required to be enabled.