2
f3b96cc738
32b03d0e0a
Thumb
Name
Date

Treno2.jpg

Open | Download | Copy Link

March 25, 2020

trentino_com-2018.png

Open | Download | Copy Link

January 15, 2020

ultra-high-definition-4k-lion-wild-africa-african-wallpaper.jpg

ultra-high-definition-4k-lion-wild-africa-african-wallpaper.jpg

Open | Download | Copy Link

August 15, 2020

Uploads

Open |

September 18, 2020

Upload_test.png

Open | Download | Copy Link

January 17, 2020

VaughnHelmet_sm.jpg

Open | Download | Copy Link

March 12, 2020

veraveris.png

Open | Download | Copy Link

October 10, 2019

WI-logo.gif

Open | Download | Copy Link

April 20, 2020

win10.jpg

Open | Download | Copy Link

September 18, 2020

WomSmile.jpg

Open | Download | Copy Link

July 18, 2019
10
Break Up Large File Lists & Add Search
The Search & Pagination extension adds searching and pagination functionality to Simple File List Pro. It is designed to make very large file lists much more manageable.
Search
Upon activation, a search box will appear above your file list. The file search can be based on name and/or a date range, if the date column is displayed as shown here. The use of wildcards is also supported. Example: .jpg would find all jpg and jpeg files.
Note – If the date column is not displayed in the file list (configured in the main plugin settings), the date inputs will not appear.
Pagination
Pagination controls will appear below the list, plus a total count of the files. You define the size of each sub-page in the main plugin's settings.
Settings
The extension adds three new options to the Display Settings page…
Enable Search: Show or hide the search panel
Enable Pagination: Organize the file list into smaller pages
Files per Page: Choose how many files to show per page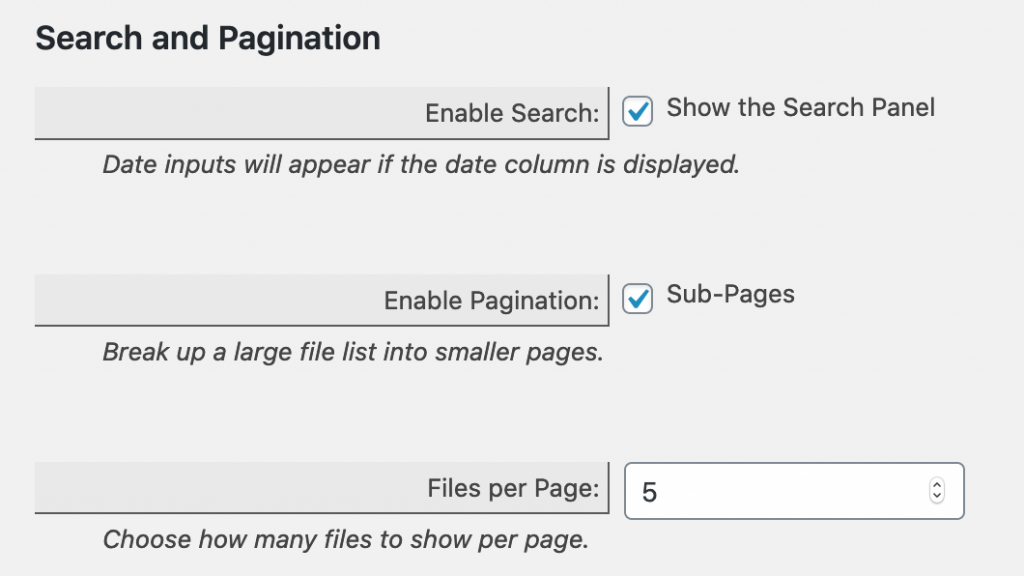 Styling
As with the Simple File List tradition. The styling of the search and pagination should take on that of your theme. If not, you can use these CSS classes to get it looking just right.

How to Add Search & Pagination
To add search and pagination support, click here or go to the Add Features tab on the plugin's settings page.