Installation Instructions
1) Download the file, ee-simple-file-list-pro.zip once the purchase process is complete. You can also get the latest version of this file later within your SFL Dashboard.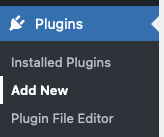 2) Go to your WordPress Dashboard and then click on the Plugins menu item. (You must be an Admin to see this)
3) Click the ADD NEW option.
4) Click the UPLOAD PLUGIN button.

5) Locate the ZIP file you downloaded and upload it. Click on Install Now.
6) Next you will see a confirmation page Click "Replace current with uploaded "
7) Next click on ACTIVATE.
8) Go to the settings pages to review the new options.
That's it. To install Pro Extensions, simply repeat this process using their ZIP files. Let me know if you have problems.
*These plugins will only activate on registered domains.