Show Breadcrumb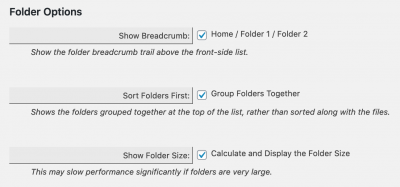 Show the folder breadcrumb trail above the front-side list. You can also use shortcode to hide or display this.
Sort Folders First
Shows the folders grouped together at the top of the list, rather than sorted along with the files.
Show Folder Size
Calculate and display the folder size. Note that this may cause increased server load with large file lists.
Preserve Spaces
Spaces in file names are replaced with hyphens in order to make the URL legal. This setting will revert this action for display.
Show File Description
Display the file description below the file name. Descriptions can be added from the Admin List, or as users upload files. Select Get Upload forms info below.
Show File Actions
Show file action links below each file name on the front-side list.
Show Extension
Show or hide the file name extension, i.e. .JPG
Show Header
Show the table header above the file list or not. It can be useful to turn this off when showing file lists in small spaces.
Show Upload Limits
Show the user file size, number and file type restrictions in the upload form. Turn this off to create your own.
Get Uploader's Information
This displays a form which must be filled out; Name, email, and optional text notes. Submissions are included in the notice email and saved with the file information. This information can be displayed on the front-side.
Show Submitter Information
Show the file submitter's information, which was gathered with Get Uploader's Info, on the front-side of the website. Shows name, linked to their email address.
Allow File Sending
Allow front-side users to email links to files.
Allow Front-Side Manage
Use with Caution. Allow complete file editing and deletion on the front side of the site.